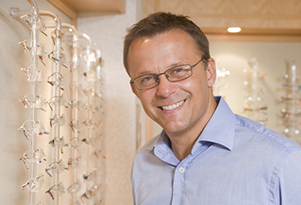 An optician is a health professional who makes, verifies, and delivers optical devices, like eyeglasses, to patients who have a prescription for them. The opticians' job includes analyzing prescriptions and interpreting them for their final application. They make determinations about the suitability of the chosen frames, optimal lens choices, and appropriate applications for the wearer and his or her lifestyle.
An optician also provides adjustments, replacements or repairs to exiting eyeglasses. They assist their patients in making good choices in their eyewear, to optimize vision.
Licensed or Certified Opticians
Professional opticians have options for certification or licensure. Certification or licensure may be obtained by completing the testing / certification process of a particular certifying organization (for example: a state board). This process may include an apprenticeship, or an educational course of study at a qualifying school. In some states, a license is required for certain optical functions. Regardless of state requirements, a national certification is also available via the ABO / NCLE. The specific requirements of practice license are determined by the laws of each state.